After a long, quiet restful night, we arose at about 8 AM, and then enjoyed the buffet breakfast at La Scaletta.
The breakfast buffet at La Scaletta (photo from http://www.hotellascaletta.it/Filtrate/50.jpg)
Then back to visit
Santa Spirito
, a lovely medieval church, somewhat 'improved' since our last trip, with the addition of electric lights and speakers. But the natural light falling on the capellas is still marvelous. This time, we saw Michelangelo's
Christ
, which I do not recall seeing on our last visit.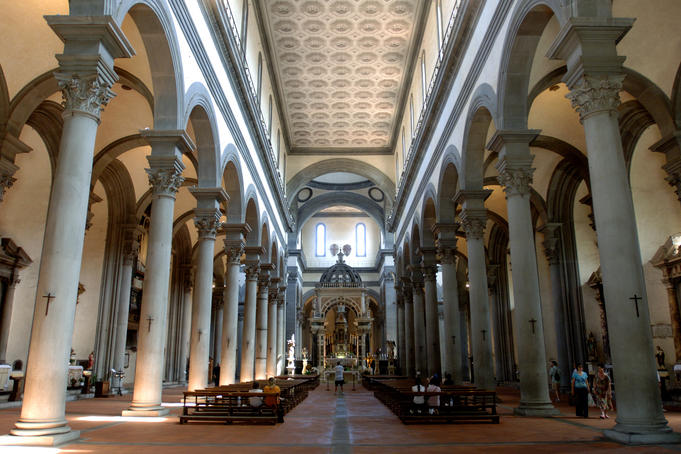 Santo Spirito, interior (photo from http://media.lonelyplanet.com/lpi/26787/26787-39/681x454.jpg)
Michelangelo's Christ at Santo Spirito(photo from http://www.topsightseeing.com/italy/florence/images/woodencrucifixbymichelangelo.jpg)
We then walked toward Bellosguardo, described as lovely by
R.W.B. Lewis
, and (spoiler alert) living up to its hype. (At one point, when he and his family lived in this area of Florence in the 1970s for a year, Lewis's children attended American School at
Torre di Bellosguardo
, now a private 4-star hotel; on some future trip, we may need to stay there for just a day or two, as it looks lovely.)
To get to Bellosguardo, we walked down Via Serragli to the
Porta Romana
, which we did not see the last time. It is one of the primary gates of the old city wall constructed in the 14th century and designed by
Arnolfo di Cambio
, one of the great architects of Florence public structures.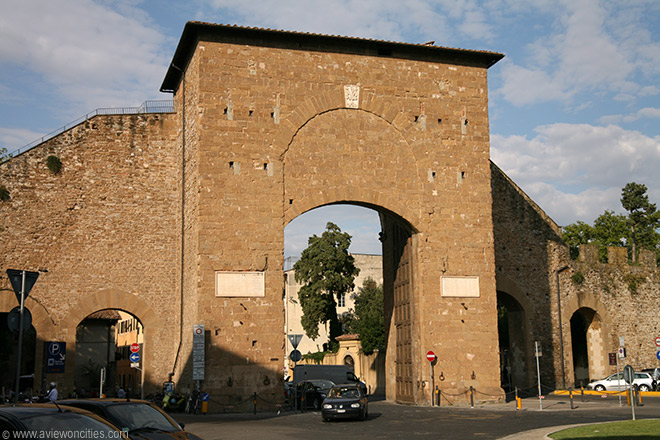 Porta Romana (photo from http://www.aviewoncities.com/img/florence/kveit2626s.jpg)
Once again, one is struck by the permanence of much of Italy; the only reason that the Porta is divorced from much of its wall is that later generations tore down much of the wall, as the city had grown considerably and the walls made traveling from one area to another within it much more difficult.
From the Porta, we walked to Via Casone, and then up and up, 7/10ths of a mile (that felt much longer, though the day was bright and breezy), up past an olive grove and a private palazzo named the Limonaia (which is fronted by a lovely overlook back to Florence, and up the drive of Torre di Bellosguardo. We could not continue up the drive, as it is marked as private property, reserved for guests of the hotel. But the drive affords another lovely view back at Florence, with a different perspective than we have had.
View from Bellosguardo, showing Duomo on the left, Palazzo Vecchio in the middle with Santo Spirito in the middle front, and just a bit of Palazzo Pitti on the right, photo by Shawn
Palazzo Pitti's enormity is finally really apparent from that vantage, and it offers a lovely view of Santa Spirito as well. Actually, most of the most famous buildings of Florence are laid out before one there; the hotel, I suspect, would be worth it for the views alone. And if one wanted to walk, one's legs would undoubtedly become much, much stronger as a result of one's stay....
View from Bellosguardo, with Palazzo Vecchio, Santo Spirito and Palazzo Pitti, photo by Shawn
Basilica of San Miniato al Monte, View from Bellosguardo, photo by Shawn
Walking back took much less time; we opted to stop at
Trattoria da Ginone
, a place on Via Serragli that we both remembered fondly from our last trip. This time, we were mistaken either for Italians or for those lucky foreigners who are far more fluent in Italian than we are—at least for a few moments—spoken to in Italian, and given a quiet table for two in the back.
Trattoria da Ginone (photo from http://media-cdn.tripadvisor.com/media/photo-s/03/a3/76/1d/trattoria-da-ginone.jpg)
We had a lovely meal, Shawn enjoying Gnocchi Patate di Pomodoro, with a fig tart for dessert, and me devouring Tortelloni di Pere e Ricotta with Taleggio sauce (which appears to be a Florentine specialty, as it was also on the menu at our dinner restaurant and I had a ravioli version at La Reggia degli Etruschi in Fiesole on our last trip). I had the loveliest strawberries (fragola) for dessert; as Shawn says, they are the next best thing to Michigan berries. We also enjoyed a half carafe of house red. It was all wonderful.
After lunch, we crossed the Arno at Ponte Santa Trinita and walked to the church of the
same name
.
Chiesa di Santa Trinita, photo by Shawn
As it was not yet open again for the afternoon, we strolled up the Via Tornobuoni, the fashion street, admiring Gucci, and Prada--and Burberry and Tiffany's. There is a little church further up that street that we visited last time,
Chiesa dei Santi Micheli e Gaetano
, so we wanted to visit it again as well; last time we hadn't been able to determine what church it was, but we had been struck by the opulence of the reliquaries, art and other fixtures.
Chiesa dei Santi Micheli e Gaetano (photo fromhttp://static.panoramio.com/photos/large/32967687.jpg)
Chiesa dei Santi Micheli e Gaetano, Interior (photo from http://www.tripquickly.com/images/upload/Chiesa%20dei%20Santi%20Michele%20e%20Gaetano2.jpg)
On the way to this chiesa, a young woman asked us to donate to a mission for getting kids off drugs; she told me I did not look American, but rather European, and gestured to include my hair and clothing. I do notice that more European women have short hair, wear dresses (as I was) and avoid white sneakers (as I had), so perhaps that's what she meant. I looked at her brochure and donated 5 Euro; it was the only time we were approached like this, and it did seem a worthy cause.
When we returned to Santa Trinita, we found it to be another medieval church, but with much of its art in far poorer state than that in Santa Spirito. We were able to see the famed Sassetti chapel painted by Ghirlandaio and the lovely stained glass.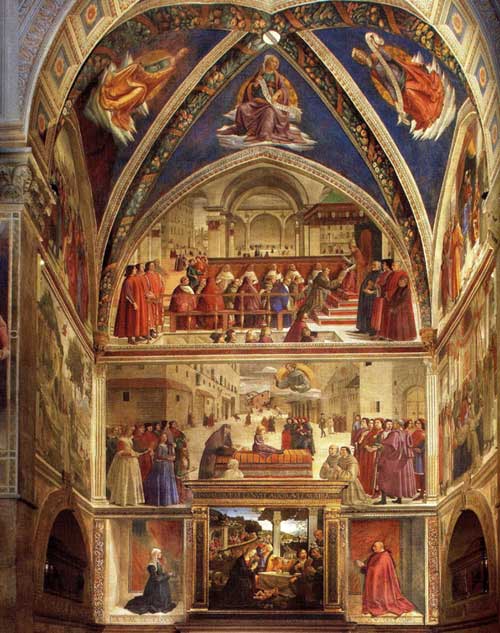 Sassetti Chapel, Chiesa di Santa Trinita (photo from http://www.italian-renaissance-art.com/images/Ghirlandaio-cappella-sasset.jpg)
From there, we walked to Palazzo Vecchio, to see what the hours are for visiting, but the Palazzo was cordoned off, with a huge crowd assembled around the cordon and in the
Loggia dei Lanzi
.
Palazzo Vecchio, photo by me
Loggia dei Lanzi in Piazza della Signoria (photo from http://www.visitflorence.com/img/art/florence-piazza-signoria3.jpg)
We had no idea what brought the crowd to the piazza, but on the next day when we returned, the threshold was littered with rice, so we are now guessing that there was a big wedding.
Rather than attempt to brave the crowds and the cordon, we walked around to the north and located the
Bargello
, the national museum of sculpture, which I would also like to visit. (We did not make it on this trip; it doesn't seem to be possible to see everything in Florence, though I did not try staying up round the clock to do so…)
Bargello (photo from http://images.travelpod.com/tripwow/photos/ta-00b0-d45e-112b/museum-of-bargello-florence-italy+12892686020-tpfil02aw-1316.jpg)
We circled around, walking back along the Arno to Ponte Vecchio, then crossed back and returned to La Scaletta for a brief rest and a drink on the terrace. On our way back out for dinner, we invited Cristina to have a drink with us when she is available; she is the young woman who was a waitress on our last trip and was so friendly and helpful—she remembered us on our return. She is now working on the desk and continuing her degree.
We ate in a bit more touristy place,
Trattoria Ponte Vecchio
, just along the Lungarno Archibusieri from the bridge, past the
Uffizi
. Our food was good (it's difficult to get bad food here), but we sat between an English couple and a herd of young American girls, babbling about inanities, so we didn't feel much as though we were in Florence. Shawn had the obligatory, but nonetheless very good,
ribollita
and insalata misto; I tried a tagliatelle con funghi (portabellos). We both finished with
vin santo and cantucci
, which was wonderful. With our dinner, we tried a rather expensive half bottle of
Brunello
; good, but not better than our half carafe of house red at lunch. Meandered back to the hotel, where we flung open the doors to let in the cool night air, and listened to the clinking of glasses on the terrace above, while we admire the moon and the stars over Fort Belvedere.