That Detroit-to-Amsterdam flight is a long one, about 8 hours. Ours left at 4:55 PM; all in all, done again, I'd try to get on the flight we took the first time, that left at 10 PM, as it's not that difficult to try to sleep then. This time, I was able to rest my eyes and nap fitfully for 2 ½ to 3 hours, but Shawn never slept at all. We spent four more hours waiting at
Schiphol
, which is a very navigable airport, and then had a painless 1 ½ hour flight to Florence. We were on the ground at
Peretola
by 11:45 AM.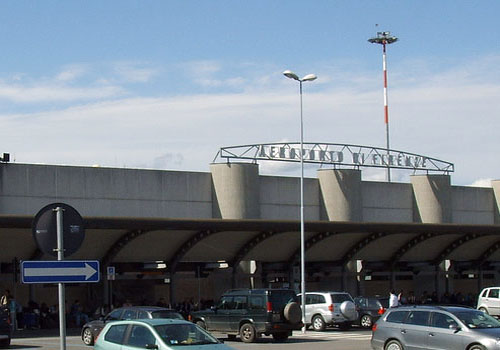 The outside of the (very) uninspiring airport in Florence, Italy, that is, nonetheless, the gateway to Paradise on Earth (photo from https://www.tripextras.com/italy/florence/peretola-airport)
We were both exhausted, and the extendable handle for one checked bag was totaled, meaning that Shawn had to just huck the thing around. As he dropped us at the hotel, our cab driver assured us that we would like the
Hotel La Scaletta
, telling us that he is a friend of the owner—he seemed a little disappointed when we told him that we knew we'd like it, as we'd been there before.
Hotel La Scaletta entrance; it's in a 15th century palazzo (photo from http://www.hotellascaletta.it/Filtrate/84.jpg)
After dropping our bags at reception (check-in is at 2 PM), we ate Insalata Caprese and drank white wine on the rooftop terrace; the view is still spectacular, and the weather was clear and probably about 76°F.
We were both too tired to think of taking pictures; this one is from the La Scaletta website. It was earlier in the day when we were there (1 PM) but that's an Insalata Caprese and the lovely view... (photo from http://www.hotellascaletta.it/Filtrate/terrazza_07.jpg)
Our room was ready by the time we had finished our lunch: Number 21, facing the
Giardino di Boboli
, and with a lovely view of
Fort Belvedere
and what I later learned is the
Kaffeehaus
(both in the garden). (Our room was also right under the lower terrace of the hotel; there is no beauty without some pain. Mostly the noise wasn't as bad as we feared it might be.)
Our view out the hotel room window, photo taken by Shawn from our hotel room window
Kaffeehaus close-up; photo taken by Shawn, from our hotel room window
Fort Belvedere; photo taken by Shawn, from our room window
Palazzo Pitti, from our hotel room window, if one looked to the right...; photo taken by Shawn
The room is about half the size of Number 28 (where we stayed last time).
Number 21, La Scaletta; photo by Shawn
But the bathroom is MUCH nicer, with a big shower with a rain head and handheld wand, big enough for two at a time, rather than the old showers in which one could not bend over without hitting a wall. The room had clearly been remodeled very recently and hastily readied; we had to ask for a second set of towels, and the bathroom trashcan didn't arrive until our second day.
After a shower and change, we took a stroll about the old town, centro storico. Our converter wasn't working to power or charge the computer, so we asked Cristina for suggestions on stores to try. She sent us to a camera shop; a gentleman there another store where we were able to get what we needed, near
Orsanmichele
. (And across from Pizzeria O'Vesuvio, which we would later discover.)
Orsanmichele, originally a hay or grain market, now a church and museum (photo from https://www.walkaboutflorence.com/sites/default/files/styles/original/public/Orsanmichele_church_Florence_Italy.jpg?itok=VzB_cgsC)
Then we walked back to
Piazza della Repubblica
and beyond, stopping in to see the courtyard in
Palazzo Strozzi
, which is, as advertised, a lovely example of Renaissance residential architecture.
Palazzo Strozzi, exterior (photo from http://www.destination360.com/europe/italy/florence/images/s/strozzi-palace.jpg)
Palazzo Strozzi, interior courtyard (photo from http://upload.wikimedia.org/wikipedia/commons/1/15/Palazzo_Strozzi_cortile.JPG)
We had seen this palazzo in passing on our 2012 trip, but I had had no idea what it was. Reading
The Cityof Florence
by R.W.B. Lewis,
Brunelleschi'sDome: How a Renaissance Genius Reinvented Architecture
by Ross King and
An Art Lover's Guide to Florence
by Judith Testa before this trip helped me to know about the buildings we'd passed; I find that I enjoy the trip more as I realize how one cannot take 20 steps here without encountering something of historical significance.
We walked back to the Arno and crossed at
Ponte Santa Trinita
, pausing to enjoy the breeze and the views, mostly toward the
Ponte Vecchio
.
Ponte Santa Trinita; photo by Shawn
Ponte Vecchio; photo by Shawn
We strolled over to
Santo Spirito
, but it was closed for visitors by the time we arrived, so we decided to try again later; as the Italians say, domani, domani. I remembered the interior of Santa Spirito as one of the loveliest we'd seen on the 2012 trip; Shawn couldn't remember having been inside, so it was definitely on the see-again list. Part of the problem is that it is one of the many churches in Florence inside which one cannot take pictures.
Santo Spirito (photo from http://www.tuscanyexcellence.co.uk/images/blog/santo-spirito.jpg)
Piazza Santo Spirito was lovely and park-like, with beautiful trees and several cafes, as well as a small market. From there, we wandered back over to
Palazzo Pitti
.
Palazzo Pitti; photo by Shawn, September 2012
We walked back along Via Dè Guicciardini to
Hotel La Scaletta
, confirming along the way that Gabriella's
Zolfanelli
leather shop is still open, as is
Cafe Bellini
, where we generally stopped for cappuccino and brioche on the 2012 trip.
After a brief break to confirm that the converter worked, we went up to the lower
terrace
to share a bottle of white wine, a Falanghina from Campania, crisp and dry and lovely. After a bit, we moved to the upper terrace, where we shared a starter plate of Tuscan cheeses with house-made pear jam and greens. Shawn then had spaghetti alla chitarra; chitarra is Italian for guitar, and the pasta named for it is about the size of spaghetti, but square, as though it had been pushed through guitar strings. It was sauced with dried tomatoes and olives. I had linguine with asparagus and a bit of shaved smoked salmon. Both were very good; the food here is far better than in 2012, but something of the easy camaraderie amongst the guests seems to have gone from the evening terrace, which makes me sad. People were much more guarded and private. Still, at lunch, we took a mother and son's picture up top, and got to see their reactions as they first saw that view; it is still simply stunning. At just 10:10 local time, Shawn had already passed out; he kept nodding off over his dinner, so much that I was a bit afraid he'd take a nap in it. However, I'll be passing out soon myself, as I'm pretty tired from this 2-day extravaganza, too.